The Colors of Summer--A Summer Sequence
Summer heat--a summer sequence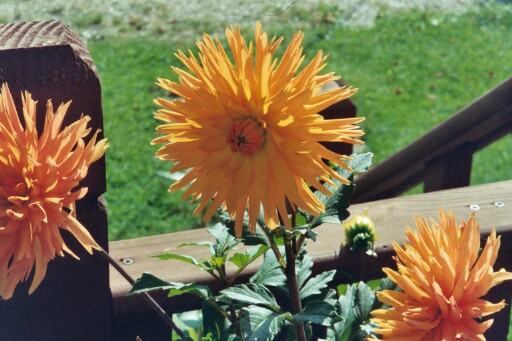 Long past midnight,
the heat of the day remains
caught in the iris--
its purple petals wilted,
bent toward the waning moon.
Paul

Into the backyard,
came this trembling of finches
for a short while...
what was it they all sought,
that our garden didn't have?
an'ya

Motionless
above the reeds,
a dragonfly--
ah, the wild blues
it vibrates in the sun.
Michael McClintock

By the dry, weedy ditch
a large snapping turtle rests;
grey clouds roll in...
hope of the first summer rain
to drench more than just a drought.
b'oki.

So many kinds, herbs,
fresh summer vegetables,
vendors shout, "Buy here!"--
home, loving the green market,
slicing onions, my eyes tear.
Kigen
Early summer...
Already an onion seeds
In the garden;
Are the fireflies aware
Of how brief their night is?
Donna

Deep dry cracks
on aged hands revealing
it's summer, summer
cloudbursts top the ravine
briefly to overflowing.
an'ya

The sound of water,
roaring down the curbstones;
afternoon storm--
broad green leaves shake in the wind;
lightning cracks a black sky.
Paul

Stone wall after rain--
a spider perfectly still
glistening in sun:
the hues of insect ad stone,
grey-black, speckled, merge as one.
Kigen

Brown mountains
hidden in clouds for weeks,
reappearing--
with your dandelions you bring
the end of the monsoon.
Michael McClintock

Walking the fence line
Of the unused pasture
At afternoon's end...
The hum of insects invades,
Overpowers these stray thoughts.
Donna

This place of retreat
once built by vineyard monks;
the smallest chapel--
white snow geese congregate
around thoughts of ancient prayer.
b'oki.

A gentle breeze
sends a rustle through the leaves
this summer dawn--
sutra memories arise
here in this mountain home.
Paul

The air becomes still...
in a gorge the sky narrows,
the river changes hue--
a pocket of purple twilight
that has always been there.
Michael McClintock

Clear from Japan,
an antique float ball
faded green--
the brilliance of summer,
what a fleeting thing...
an'ya